expand contractris, secret grades and next week's version
---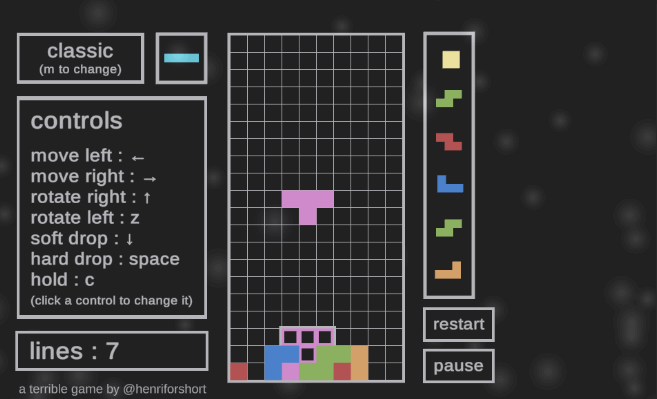 hi gamers! y'all look magnificent and i hope you're having a great day!
this week's version is narrow tetrible, loosely based on this comment from nick666101, an OG tetrible player and holder of a lot of the game's high scores (even though the competition is fierce this week!)

i had a lot of fun making this version, even tho at first i was afraid it would be too easy. i think it turned out ok, the only regret i have is not naming it something cooler, like "expand contractris"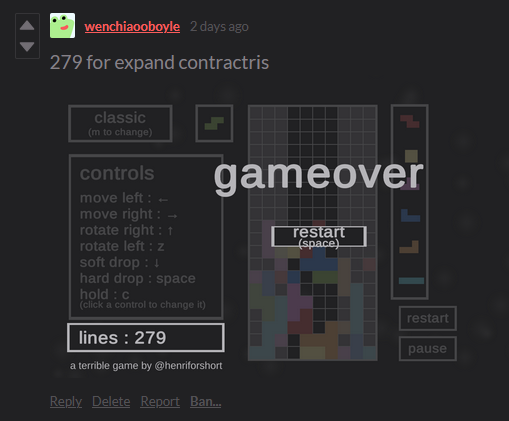 regarding new features and bug fixes, i've finally managed to make the events for perfect clears and secret grades work properly. obviously i have ways of cheating to simulate them, but the hardest part was to learn how to actually execute these moves myself at least once, in order to test them for real before i release them. but i did it! which makes me about 80% sure that it works, please send me your best PC and SG in the comments.
i've also added one exciting feature : game modes! the time limit wasn't that popular among some of you who enjoyed playing for longer than 15 minutes in a row, and those who felt cheated by the time freeze exploit (that i fixed too, btw!). in order to keep high scores based on skill and not just whoever gets bored last, i'll keep the timer in the default game mode ("classic"), and only accept high scores submitted in this game mode. however, i've also added two more, that you can access by pressing "m" or by clicking the button at the top left-hand side of your screen (note that it will restart your game):
"endless" mode allows you to play forever
"zero gravity" mode disables the pieces' fall, which allows you to take your time and play at your own rhythm
tell me what you think of those game modes, and feel free to suggest new modes that you'd like to see!
finally, i'll be on holidays for the next two weeks, so i won't be making new versions of tetrible. here is a twitter poll if you want to weigh in on what version you want me to reupload next week : the candidates are letter tetrible, twisted tetrible, repeat tetrible and lava tetrible. if you don't have twitter, just write a comment on the game's page and i'll take that into account too! i'll have another poll that i'll link to for next week as well.
that's it for this tuesday, enjoy the game and watch out for the expand-contractions!